An OLED all-rounder to trip the light fantastic
I have to admit, "Philips" was a brand I didn't previously think of when it came to TVs, let alone OLEDs. That's all changed though with the Australian release of their OLED935 series.
The lineup combines the beauty of an LG Display OLED panel, the high quality sound of Bowers & Wilkins with an integrated sound bar and the immersive experience of Philips' Hue lighting system integrated into the back of the TV's display.
Picture quality
Available in either 55" or 65" sizes the OLED935 produces the picture quality and depth now synonymous with OLED panels. In fact, it uses the same panel as LG's 2021 C1 range, giving you a wealth of resources to deep-dive on specification and colour reproduction capabilities should you wish. Needless to say, it's a pretty damn good panel.
With that said a panel is only as good as the brain powering it and whilst Philips have taken some time catching up with the pack, their new P5 AI+ image processor certainly elevates them into your next TV purchase discussion.
Like literally any TV on the market it comes with a bunch of over-vibrant and awful motion smoothing (soap opera effect) enabled. These are easily turned off and a near-perfect image reproduction produced by simply changing both the standard and HDR picture styles to "movie", Philips' precursor to the new "Film Maker Mode" standard.
Software
Behind every good TV is good software. More and more manufacturers are clumping horrible interfaces filled with ads or unintuitive UIs (I'm looking at you Samsung) that do nothing for the user's experience. Thankfully Philips' have made a simple and smart choice using AndroidTV as the backbone for their lineup.
AndroidTV is familiar, it's simple and whilst it isn't without its quirks most people will easily pick it up. There are enough guts inside to make the UI snappy and also kept up when streaming local 4K content from my Plex server. It also has the added bonus of the literal millions of apps being available for it. With streaming services popping up all over the place, its almost a guarantee their first apps will be released for Android and available immediately on your Philips TV.
Being the TV's main OS a new line is added to include "Live TV" if an antenna is plugged in and tuned. This will bounce you out to Philips' proprietary interface, which also houses the UI to access the TV's settings. It's here where you'll have to familiarise yourself with a new UI, but it's relatively simple to wrap your head around.
The one area that does need work is the tuning and management of channels in your favourite's list. Fewer and fewer people care about this functionality, but like most the Philips' UI is cumbersome to carry out what should be a straight forward task.
Ambilight
What makes the TV a Philips one for me is the inclusion of it's Ambilight system. A cousin of the Philips Hue lighting system we're all familiar with, Ambilight integrates a series of LEDs onto the back of the TV that extend your viewing experience by projecting colours onto the wall behind it.
What colour the LEDs are is dictated by what's being displayed on the screen, the TV analysing the image multiple times a second to effectively extend your display.
The feature alone isn't unique to Philips. There are multiple pass through box solutions out there, including one from Philips Hue, however none of these seem to work as effectively as Ambilight in my opinion. They're often slow to react or limited to 1080p or 4K @ 60Hz, this doesn't apply to Ambilight, which consistently delivered.
Is it a TV seller? It'll really depend on the individual and where you're putting the TV. Like everything out the box it's dialled up to 11 and distracting in my opinion. I would turn it off while watching movies when testing the TV. After dialling in the settings more it's far more appealing and a neat "trick" to show your guests, but not something I personally need to have in my TV experience.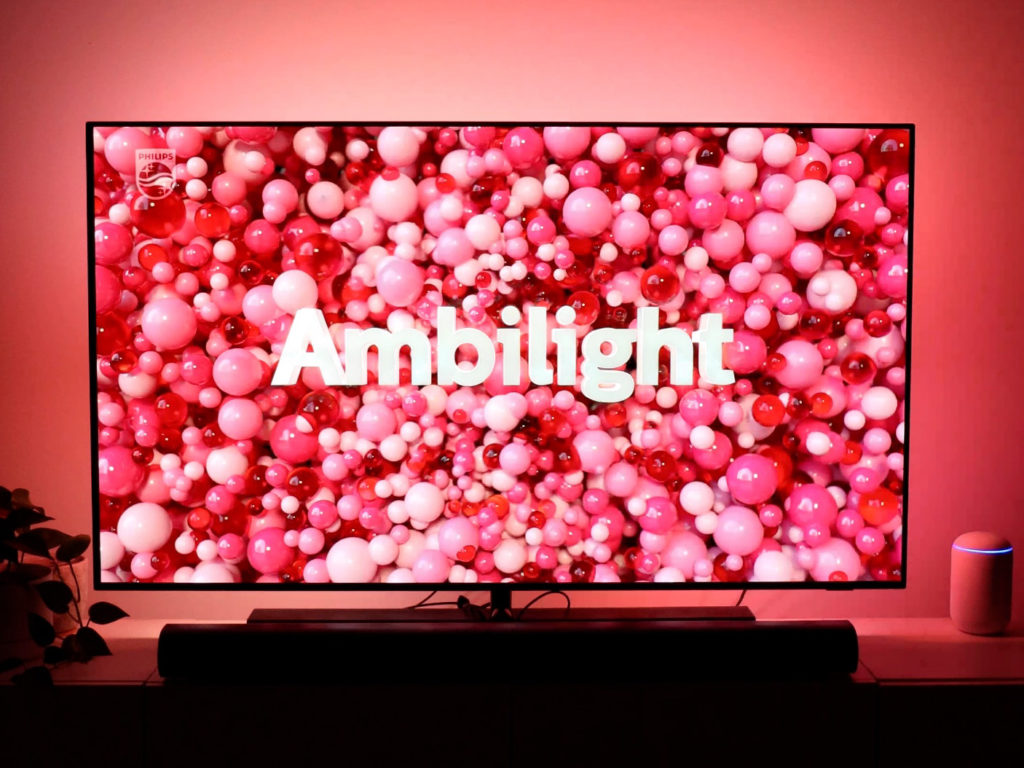 Sound
Included in the box is a Bowers & Wilkins partnered Dolby Atmos soundbar. The brand name certainly gets your ears to prick up, but sadly the sound it emanates won't.
It's fine is probably the best way I can describe it. There's nothing amazing about it and there's nothing downright terrible either.
If you're someone coming from built-in TV speakers you'll find this a great step up and it's faux ceiling-bouncing surround sound will be noticeable. For anyone else you'll be longing for a sub to add much needed bass.
Being an all-in-one product it's nice that Philips' incorporated the soundbar into both a standing and wall mount. Both of these are included in the box I might add, which is a rarity for sure. Some might argue the price could come down by omitting one, to me it shows Philips are going the extra mile for their customers. The two mounts are super solid chromed pieces that look great and add to the appeal of the complete package on offer.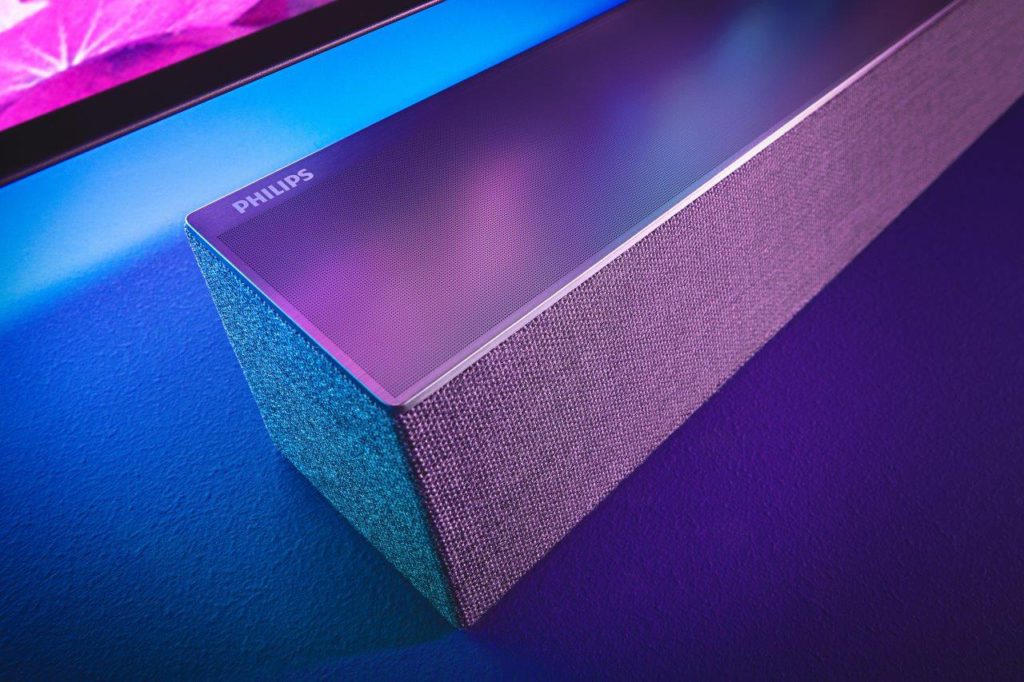 What's missing
Despite using the same panel as LG's C1 range, the OLED935 doesn't include the ability to support a variable refresh rate (VRR). This will mostly annoy gamers, but even then its a subset who connect PCs to their OLEDs and wanting other features like Nvidia's GSync. Next-gen consoles can make use of the VRR feature for a more smooth experience, but that again appeals to a small market who can actually get their hands on a unit at the moment.
Another gripe is the TV's remote. A full-width button for Ambilight, which pops up the feature's settings menu, for example is complete overkill and a waste of space. The remote's backlit also fails to switch on when motion is detected. Instead the unit only lights up after you press a button, which I find beyond frustrating. Very quickly I learnt where to press a directional button to not upset anything I was watching and turn on the backlight to hunt for what I actually wanted.
Lastly whilst the TV has 4 HDMI ports equipped with ARC it's lacking a very important "e" at the beginning of that acronym. Whilst the soundbar is connected via a proprietary connector that carries an Atmos signal anything connected via HDMI is limited meaning you're limited to getting the full Dolby Atmos & Vision experience to apps running directly on the TV.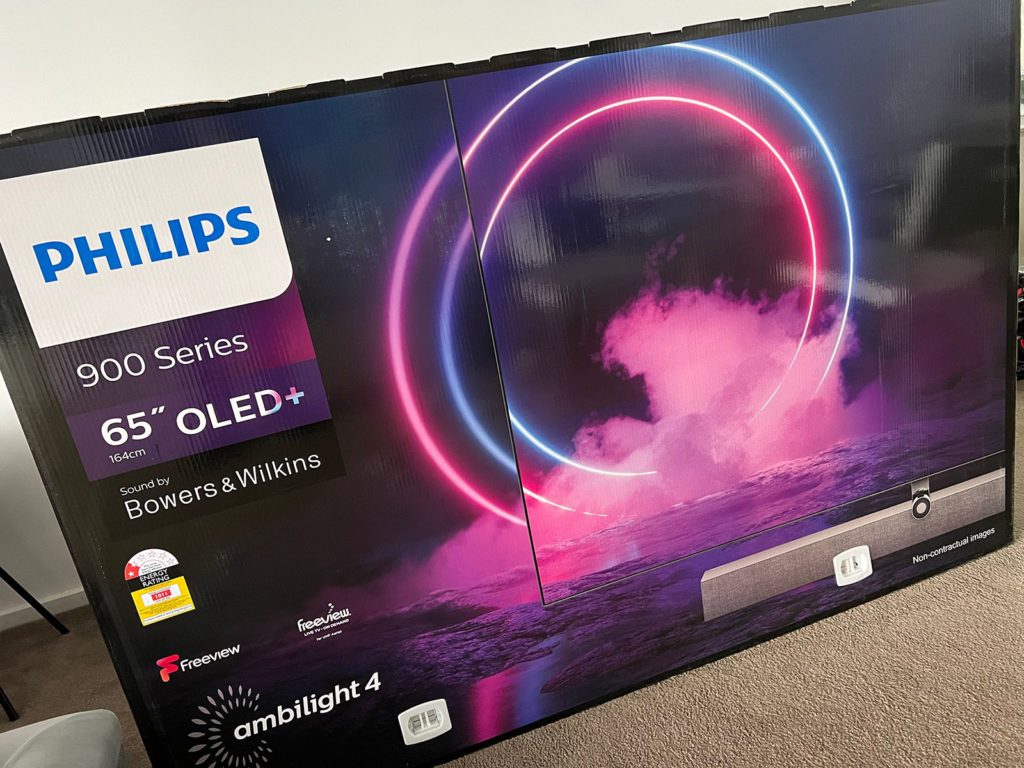 Conclusion
Philips' OLED935 is the perfect option for someone wanting an all-in-one and straight forward entertainment solution. Ideal for a bedroom or kids play room the included soundbar and mounting solutions give you a quick and easy with incredible picture quality.
Where it doesn't work is the centre piece of your new home theatre. The soundbar will quickly be replaced and the cheaper OLED835 range that doesn't include it may be a better fit.
You can purchase the Philips OLED935 4K UHD Android TV direct from Philips Amazon Store today for A$4995.
Rating
Philips OLED935 65" TV
An OLED all-rounder to trip the light fantastic
Philips' OLED935 is the perfect option for someone wanting an all-in-one and straight forward entertainment solution. Ideal for a bedroom or kids play room the included soundbar and mounting solutions give you a quick and easy with incredible picture quality.
The Good
OLED all the way
Ambilight is a fun value add
Great picture reproduction
Desk & wall mounts included
Android TV
The Bad
Soundbar needs a sub
No motion activated backlight on remote
ARC, not eARC