One of the reasons to build your own house is to get all the stuff you want, the way you want. Urinal in the bathroom? Done. Space for your Ferrari in your home theatre? Easy. The only limit is your imagination and budget. The extravagant luxury I included in my new home is 600 meters of CAT6 cabling, run to 31 points around the house and a 12RU cabinet stuck on the wall to house some servers. All the visitors I've had to the house ask me questions about it, so I thought I'd write about my setup and hopefully help anyone else thinking about wiring up their house too.
It starts off with a plan for where I want the sockets to go. I marked on the architect's drawings how many ports and where to put them in order for the data cabler to give me a quote.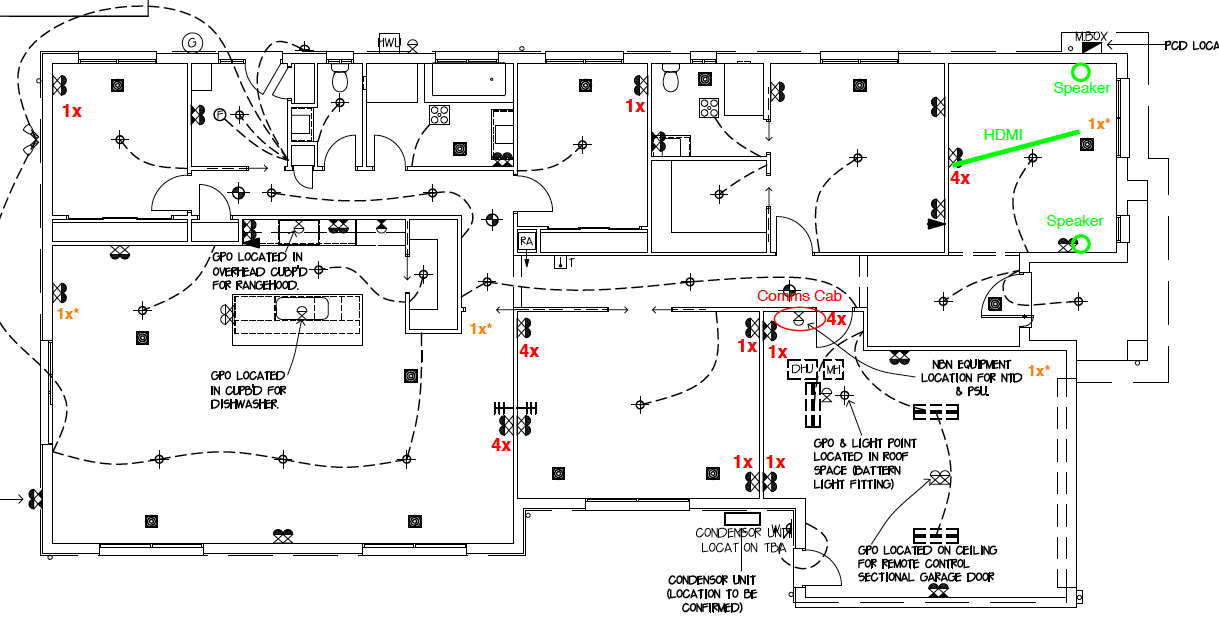 All the bedrooms have a single port. I have no use for them now, but if I was to sell the house, the kids (or room mates) rooms would be handy to have an Ethernet port in.
In the living room, there are four ports – Foxtel IQ3, Raspberry Pi 2 running Kodi, a PS3 and a spare port for any new stuff I test out or just temporarily have there.
The study has 6 ports, 4 near my wife and I's desks – 2x primary computers, and 2x more for whatever temporary machines I'm working with (like right now there's a Windows box on my desk as well as the Mac) and 2x ports on the opposite wall, one for a printer and the other just spare for whatever random crap ends up in my study, maybe a Raspberry Pi.
Right at the front is the theatre room, that one day, I'll have some spare money to chuck a projector into. There's 5 ports in there – one in the ceiling for the projector (to control it via a tablet/smartphone mainly) and 4x on the wall for whatever game consoles, blu-ray players, media players or AV receiver I decide to buy.
[wp_ad_camp_4]
There's a few unterminated cables left in the ceiling for future expansion – for security cameras or more wi-fi access points.
All the cables run back in to a cabinet in the garage. You can put it anywhere you like (under some stairs, or in a pantry for example), but I chose the garage so it's out of the way and a bit of noise and heat in the garage won't both me inside the house. I also included two ports in the garage near where I'll put a workbench.
I could have cut down the amount of sockets by getting a single point in areas like the living room and study and plugged in a cheap switch in those rooms instead, but I wanted to reduce clutter. If you need to cut costs, or you're charged per point, using a cheap $30 gigabit ethernet switch to give you 8 ports is better than paying hundreds for extra ports and will work perfectly fine. The only time you'll notice is if you've got two devices trying to use the full 1000mbit of bandwidth at once, saturating the uplink back to your core switch. In most homes that would be pretty damn rare.
After deciding how many points I want and where they should go, I needed to pick out the equipment.
The cabinet I chose is 12RU because I want to stick a few computers in there and have some space for air flow around them. I purchased the cabinet myself off eBay, from a seller called Sysbey. When picking your cabinet, make sure it's deep enough for your gear. Some cabinets are only for comms stuff and are ~300-400mm deep and fine if all you plan to put in the cabinet is a switch and maybe a router and a NAS.
Whoever does your cabling will have an opinion on the wall plates, connectors, patch panel and cables they want to use. What you should insist on is top quality cable. For most home users, CAT6 is what you want. CAT5 and 5e is a bit old now and won't handle 10GBASE-T very well if futureproofing is on your mind. CAT7 is expensive and has some strict requirements for cable placements and connectors making it slightly impractical, but not impossible for home use. It would be sweet overkill to get CAT7 in your home right now. CAT6 is where it's at for most people – CAT6A is a higher speed version of CAT6, which can handle longer 10GBASE-T runs. CAT6e is just a fake thing some cable companies made up. Avoid any cable labelled CAT6e and if a cabler is telling you they will install CAT6e, find a new cabler.
The brand & quality of the cable itself is a big factor on how your network will perform too. Crap cable will introduce weird network errors or not reach the speeds you hope it would. I don't have any recommendations but make sure the cable is solid or stranded copper, not aluminum with a copper cladding. I personally have Molex PowerCat 6 cable installed and it's working well.
Here's some pictures of the install process.
Cables tied down to frame, not left loose and run through the frame noggin at not too tight of an angle.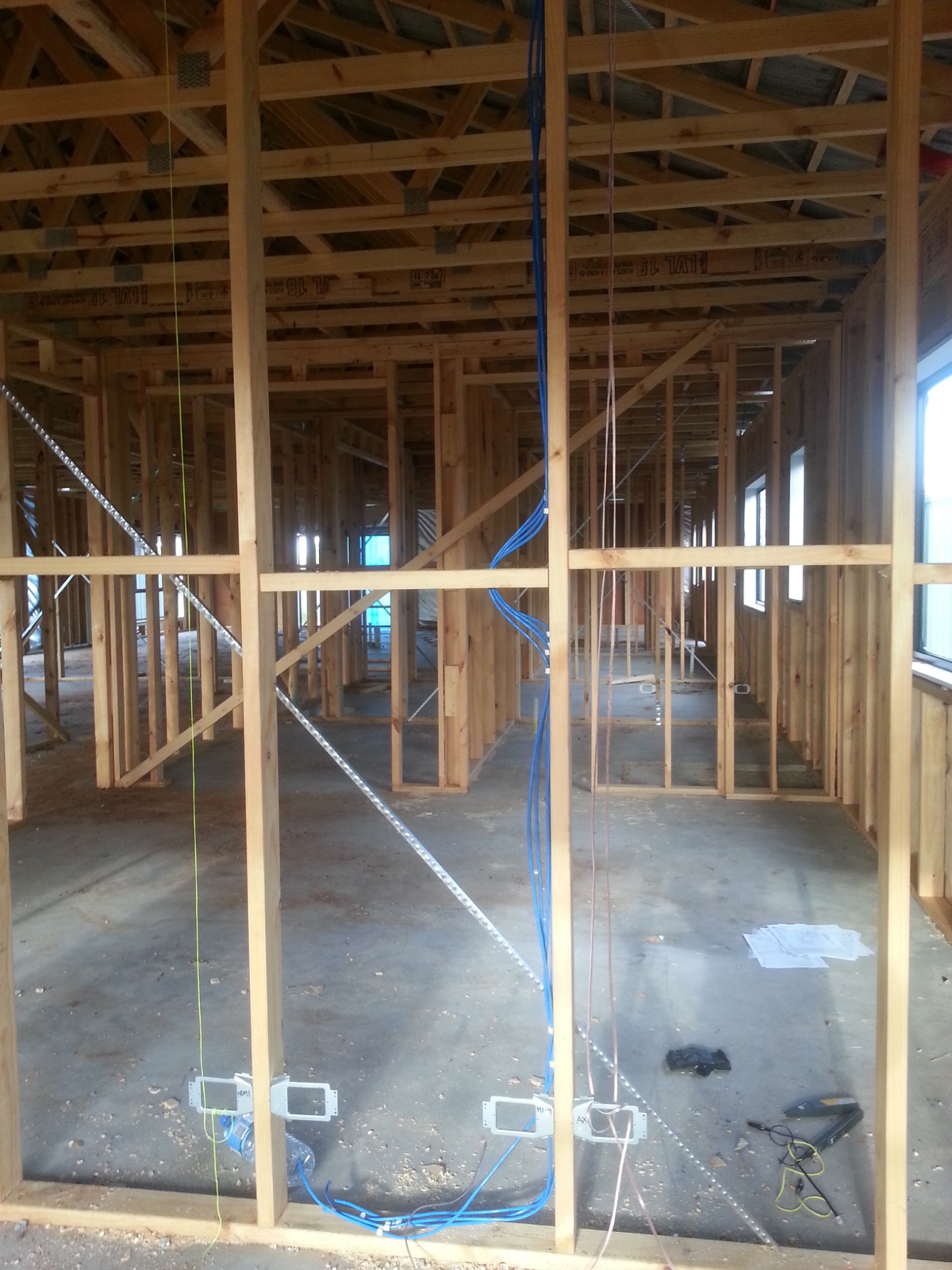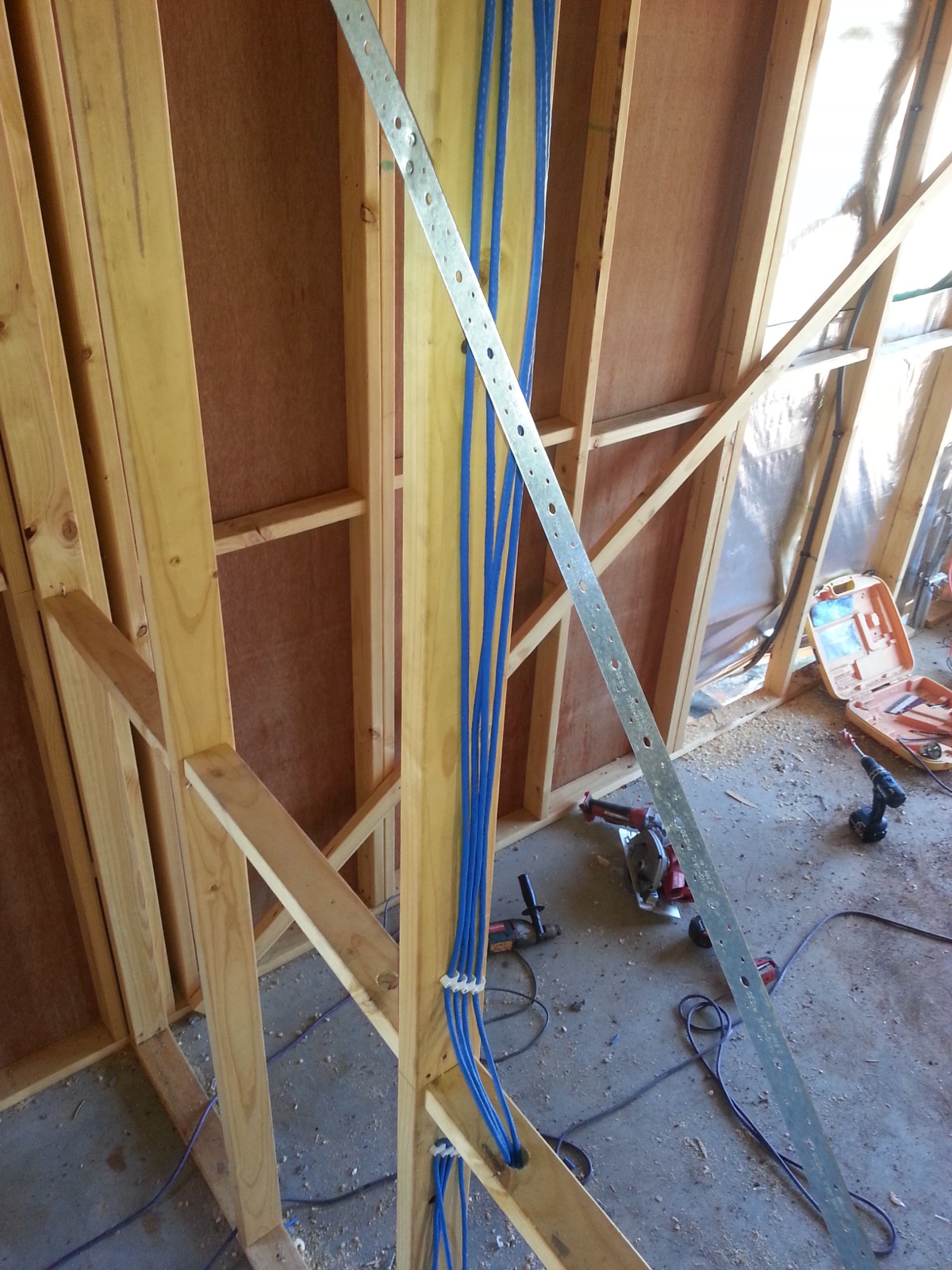 Properly channeled across the ceiling beam and clipped down.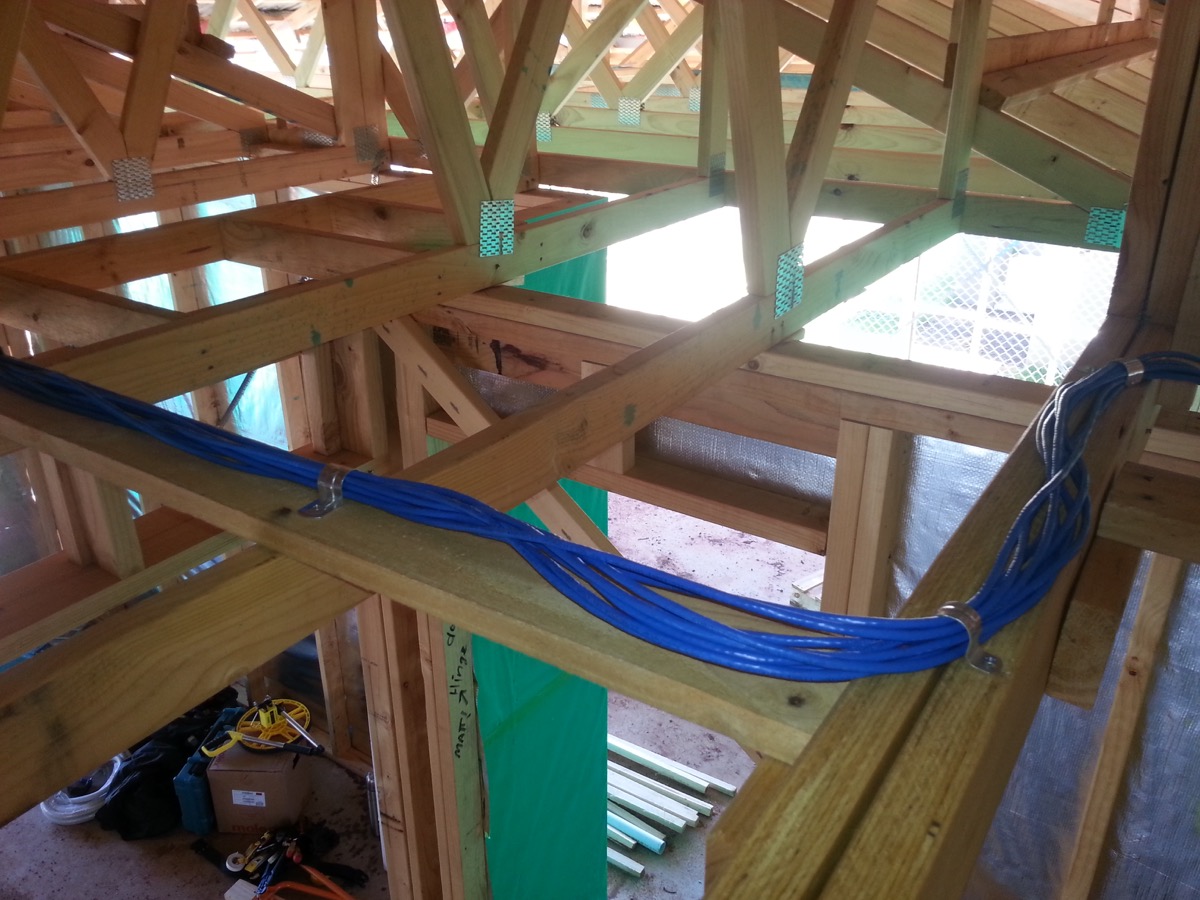 A cable left loose in the roof space for future expansion.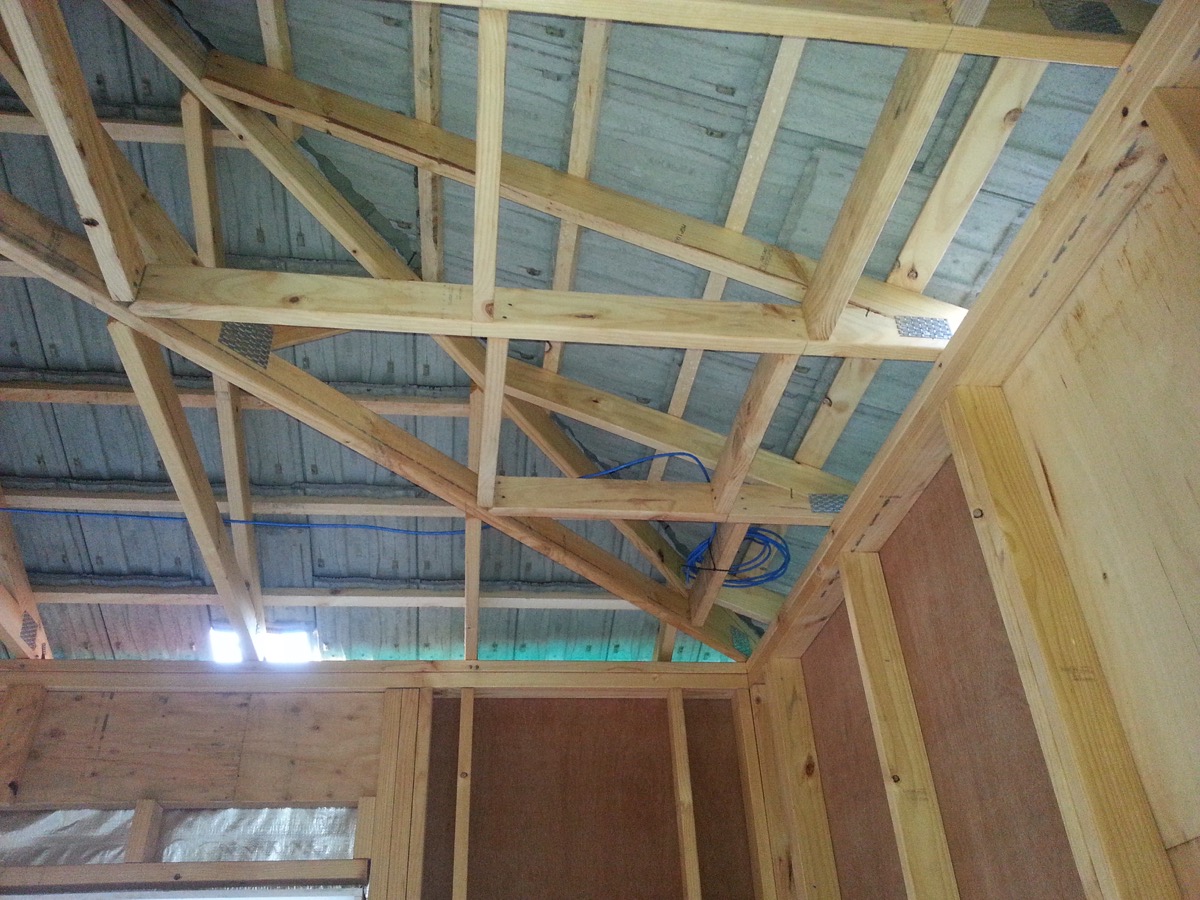 All the cables run to a central location in the garage. They'll be trimmed and terminated into a patch panel once the plaster is up.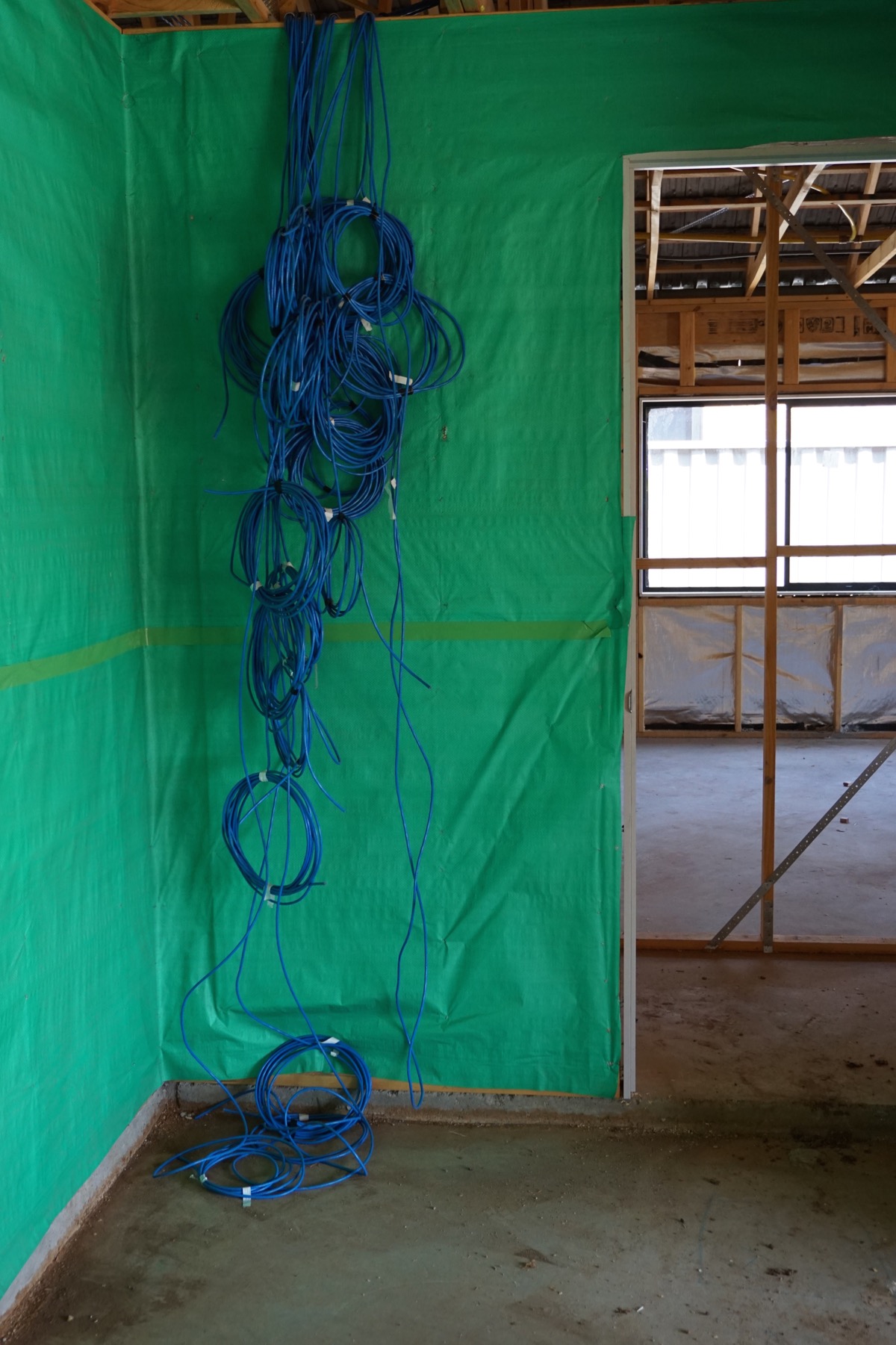 What it looks like when the insulation is installed.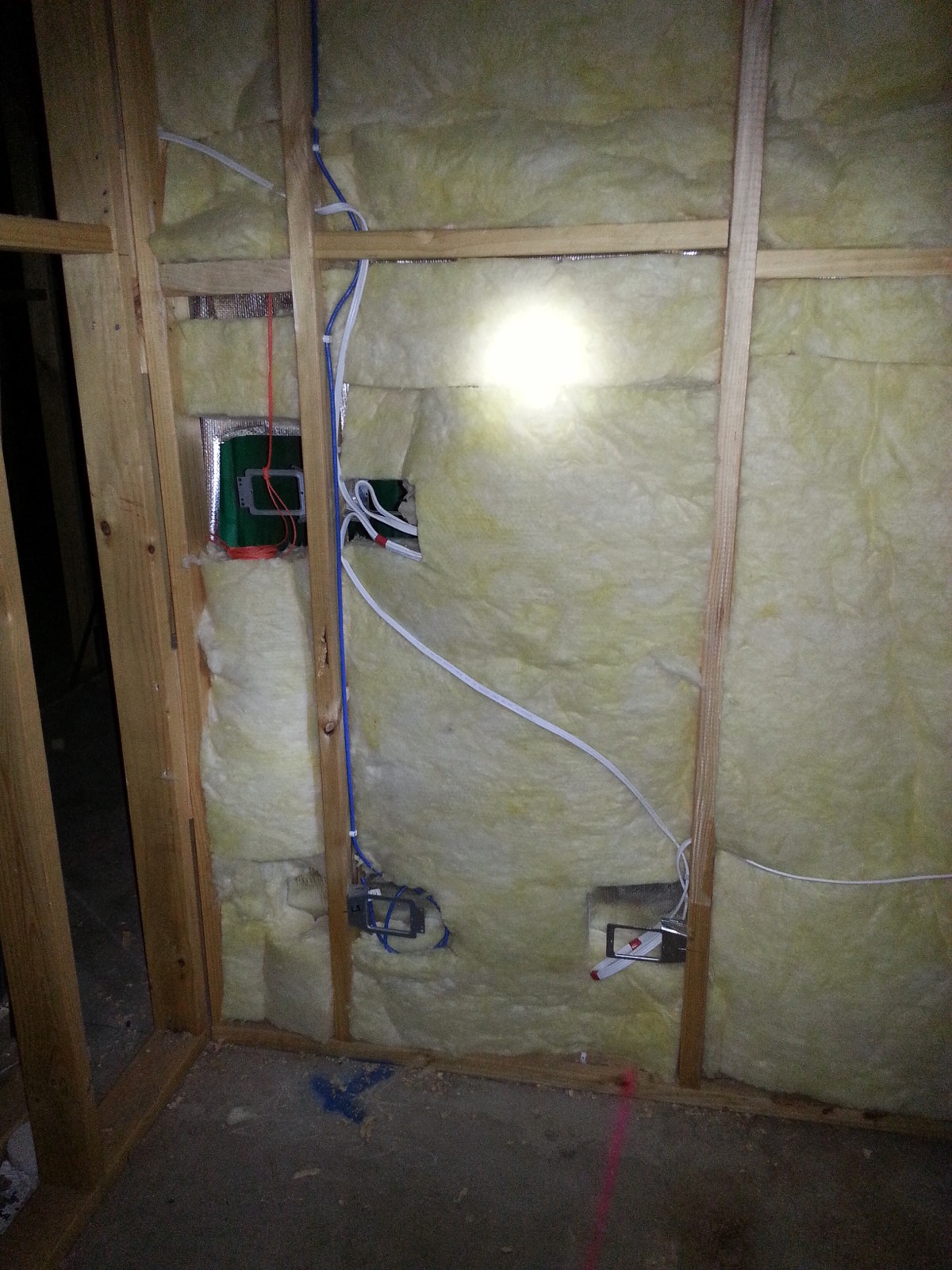 When the plaster goes up, the data cabler will come back and cut holes in the wall where the sockets will go. They'll come back once the floor is in and walls are painted to pull some cable out of the hole and terminate the cable into the sockets.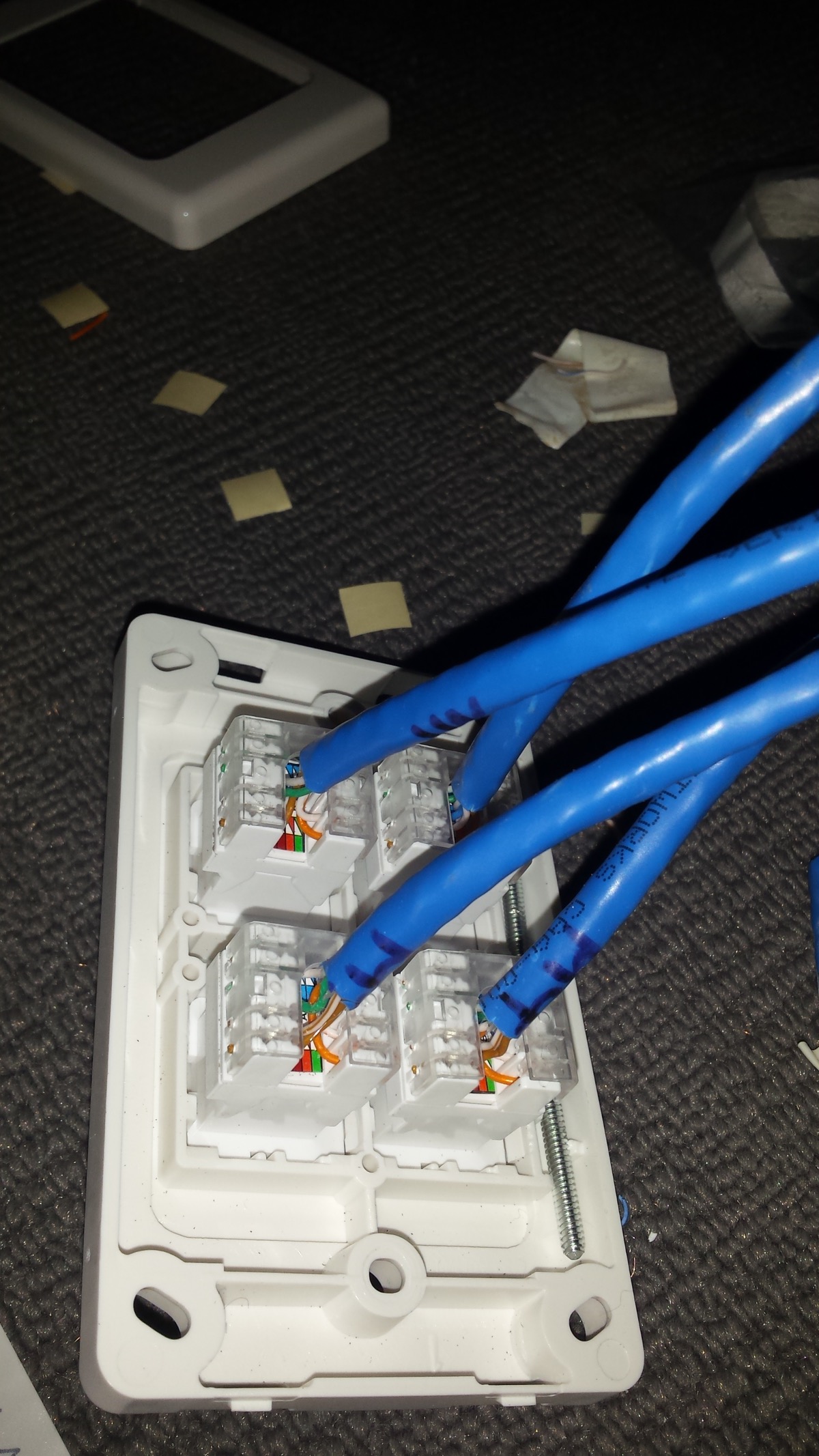 Remember all those cables hanging off the wall in the garage? Now they're neat and tidy. This is the same bunch of cables running through a beam in the ceiling (so this photo is looking down onto the ceiling). The white pipe is a conduit for the NBN fibre cable.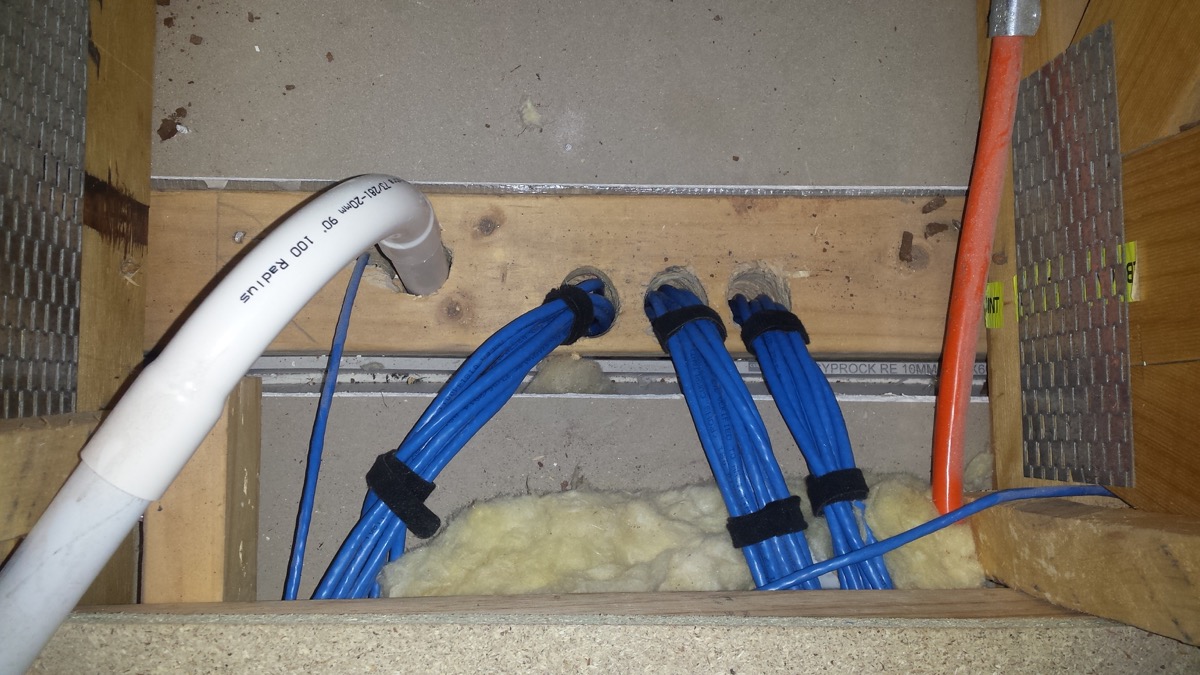 So the cables that come down from the ceiling now stick out via these holes in the wall just above the wall mounted cabinet.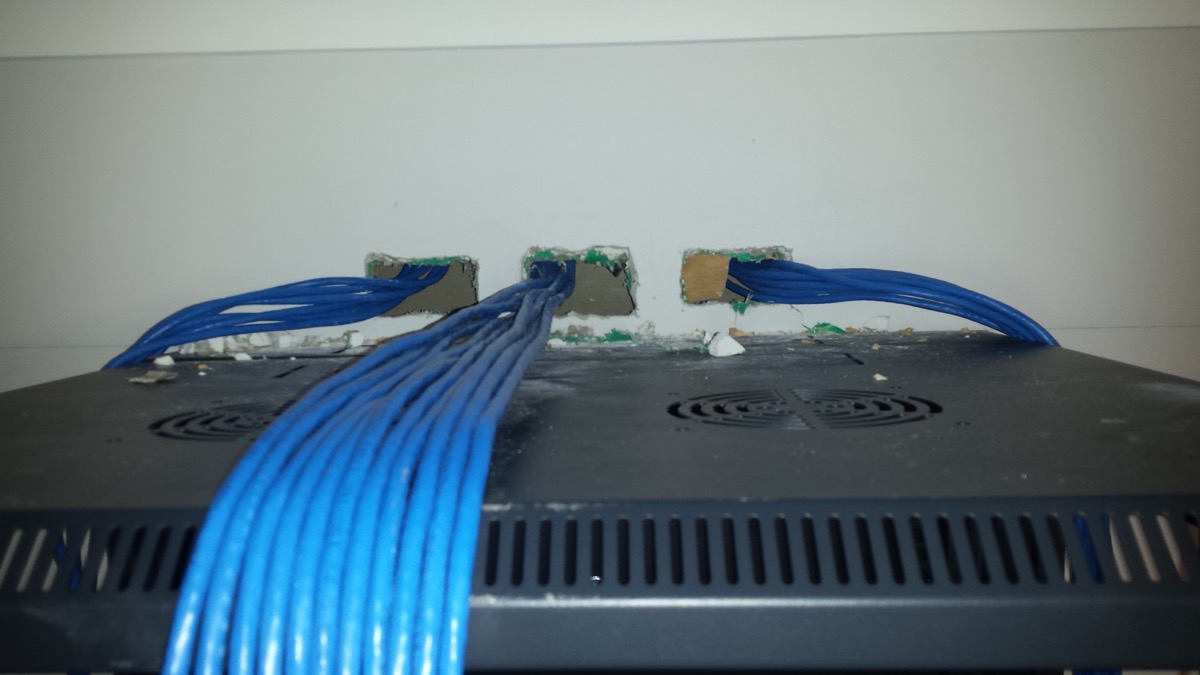 Here's the cables tidied up.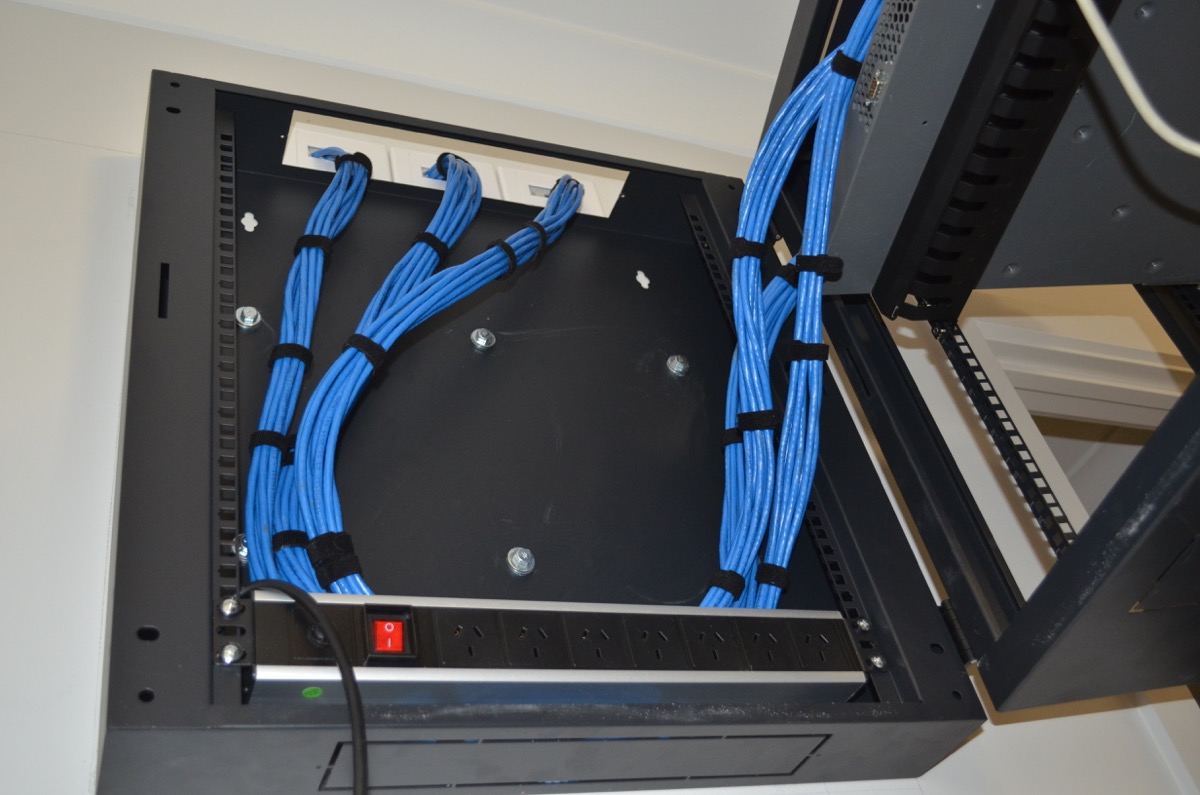 And placed into the patch panel.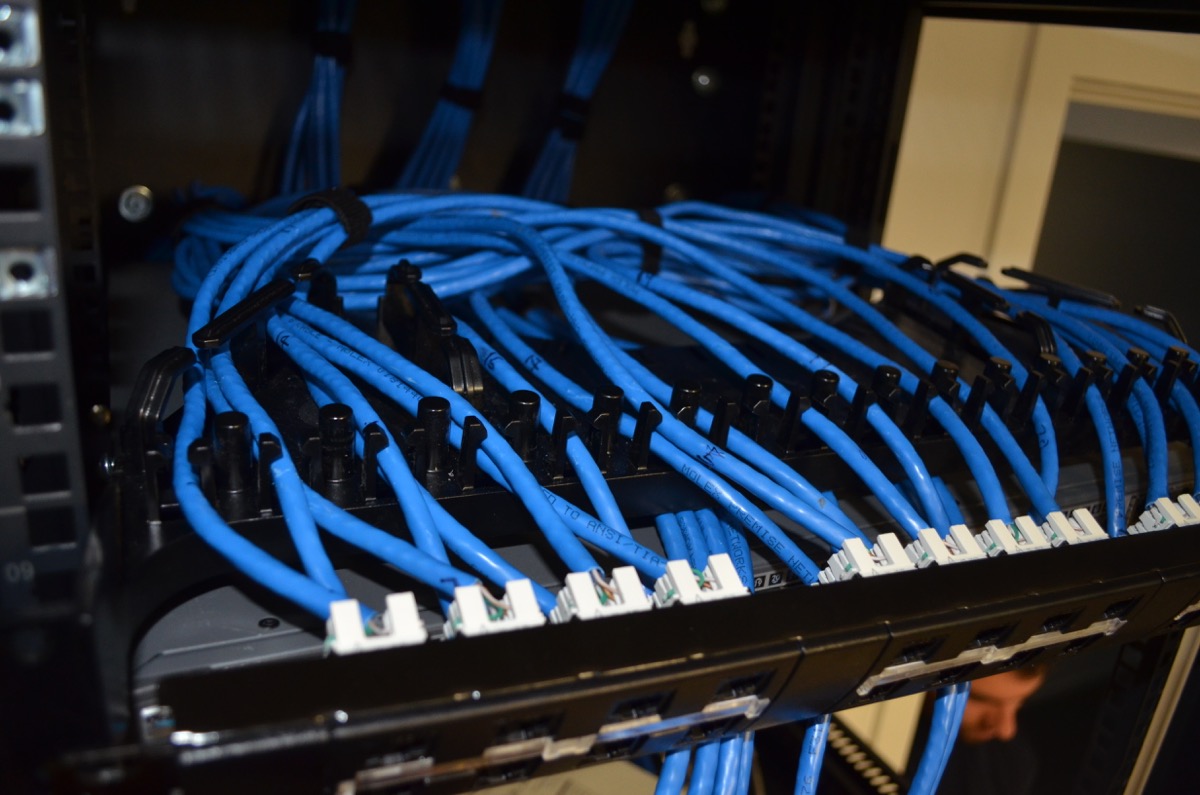 Also in the roof space is a Ubiquiti UniFi wi-fi access point, which uses power over ethernet (PoE) and can be used in conjunction with multiple access points to create a single network, no need for wi-fi extenders or WDS. It's in the middle of the house and I get good enough coverage everywhere off a single AP. I could upgrade to the long range version of the UniFi, but it's not that important right now.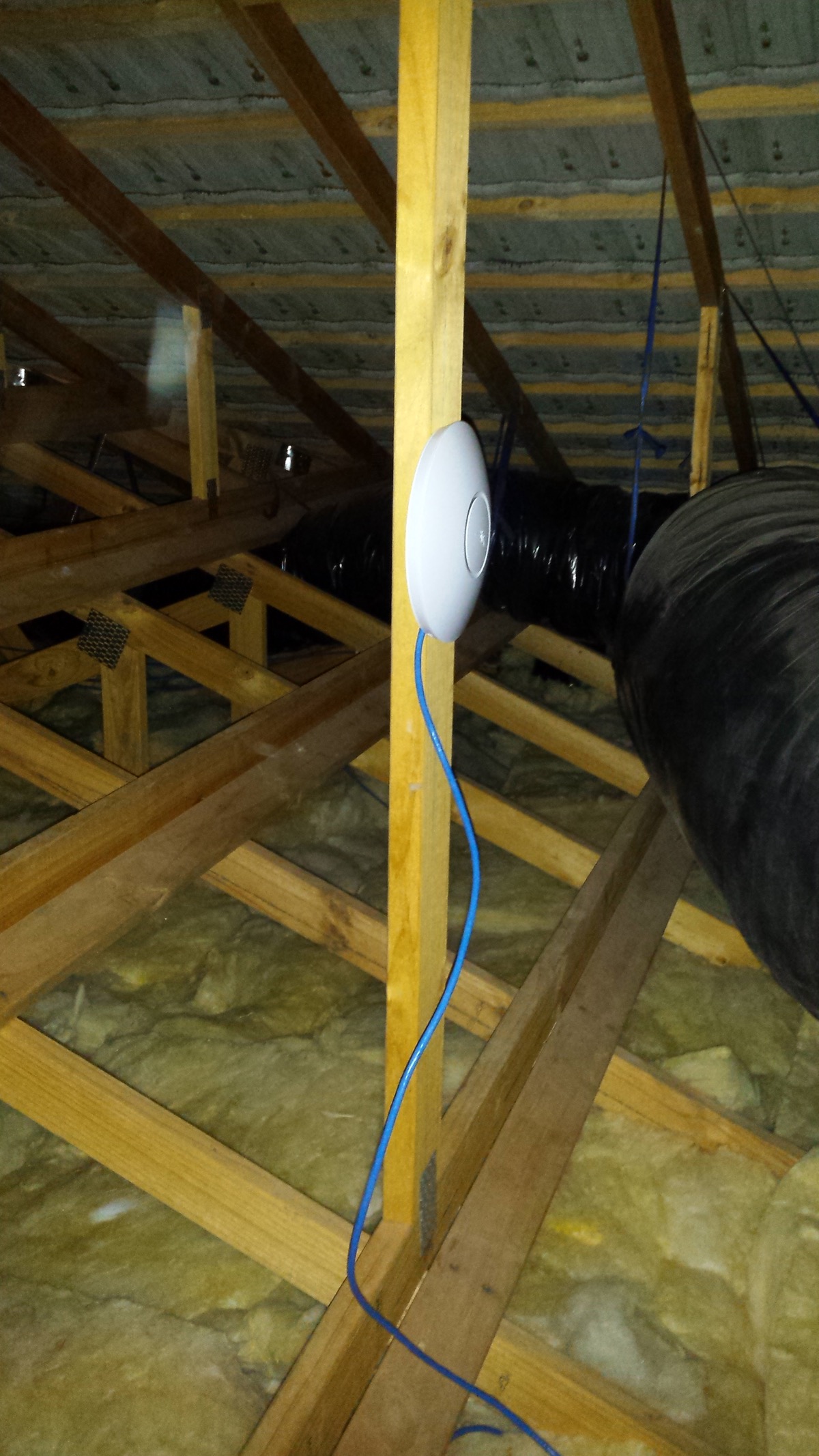 This is the completed setup with a switch installed.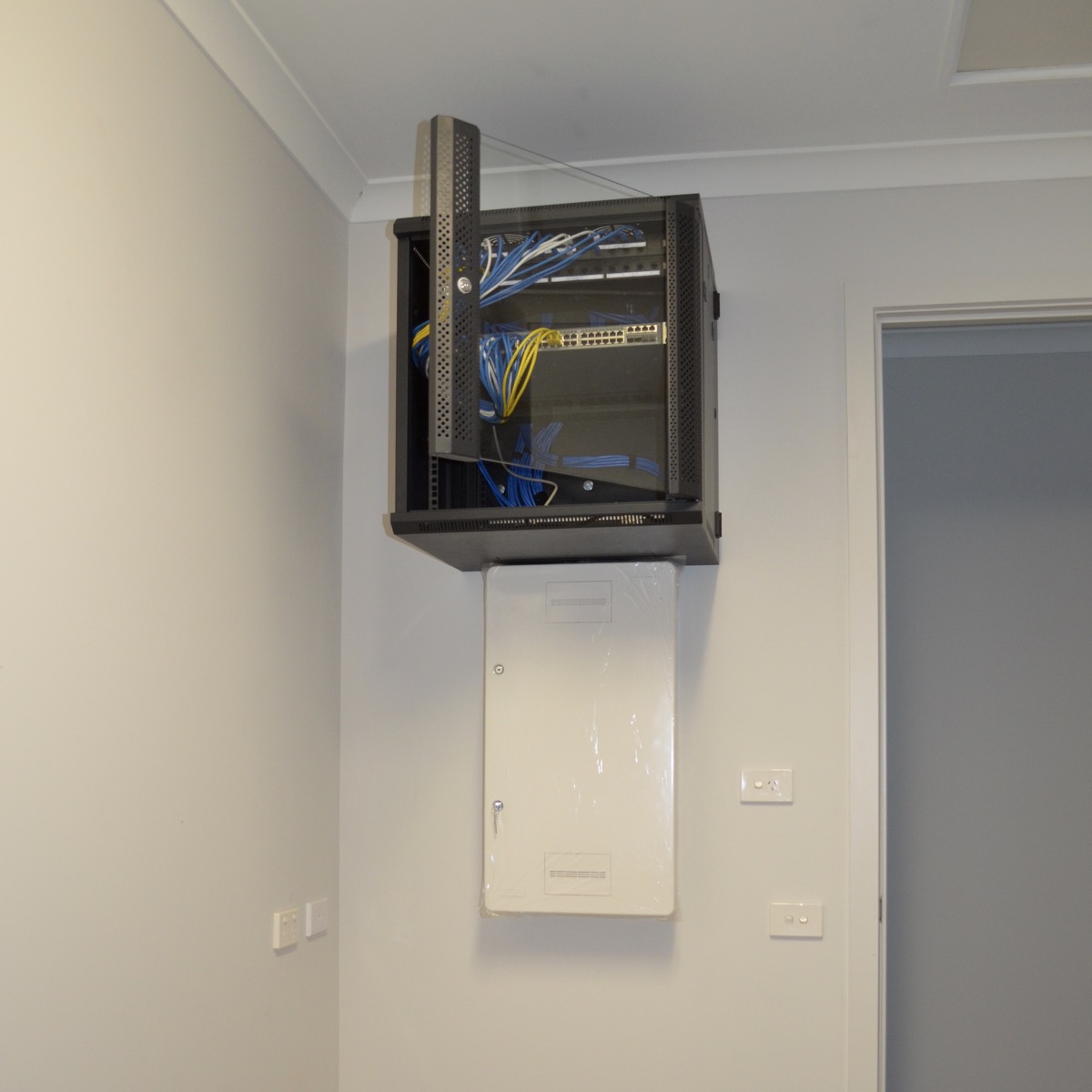 I got an NBN enclosure installed, because back when I first planned this setup, NBN Co required the backup battery and the NTD didn't have an enclosure. EVerything was just screwed on to the wall and left dangling there. However now, the battery isn't provided and the NTD comes with a cover, making it all very neat. Here's what it used to look like and what it looks like now. In hindsight I wouldn't have bothered with the fancy Clipsal NBN enclosure. Eventually I'll get a double GPO installed in that enclosure, so that the power cable are all enclosed and tidy.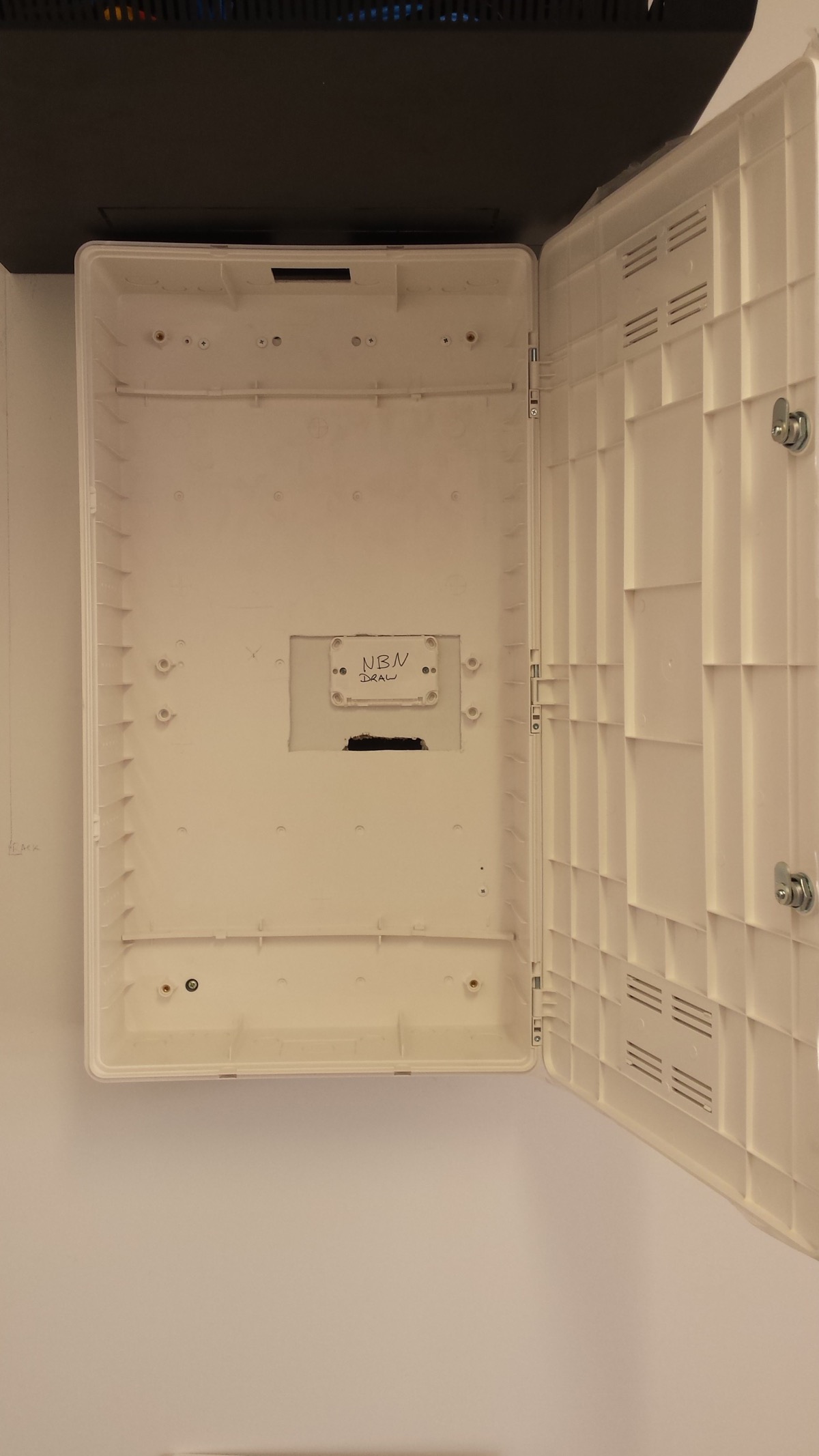 Inside the NBN enclosure are four ethernet cables running back to the patch panel. The sweet thing about the NBN is that you can get up to four different ISPs over the single piece of fibre. That's 4x 100mbit connections. Most people wouldn't bother running four cables to the NBN enclosure, but I might get all four 100mbit connections one day (I have a few ideas for them up my sleeve), so figured I should wire them up now.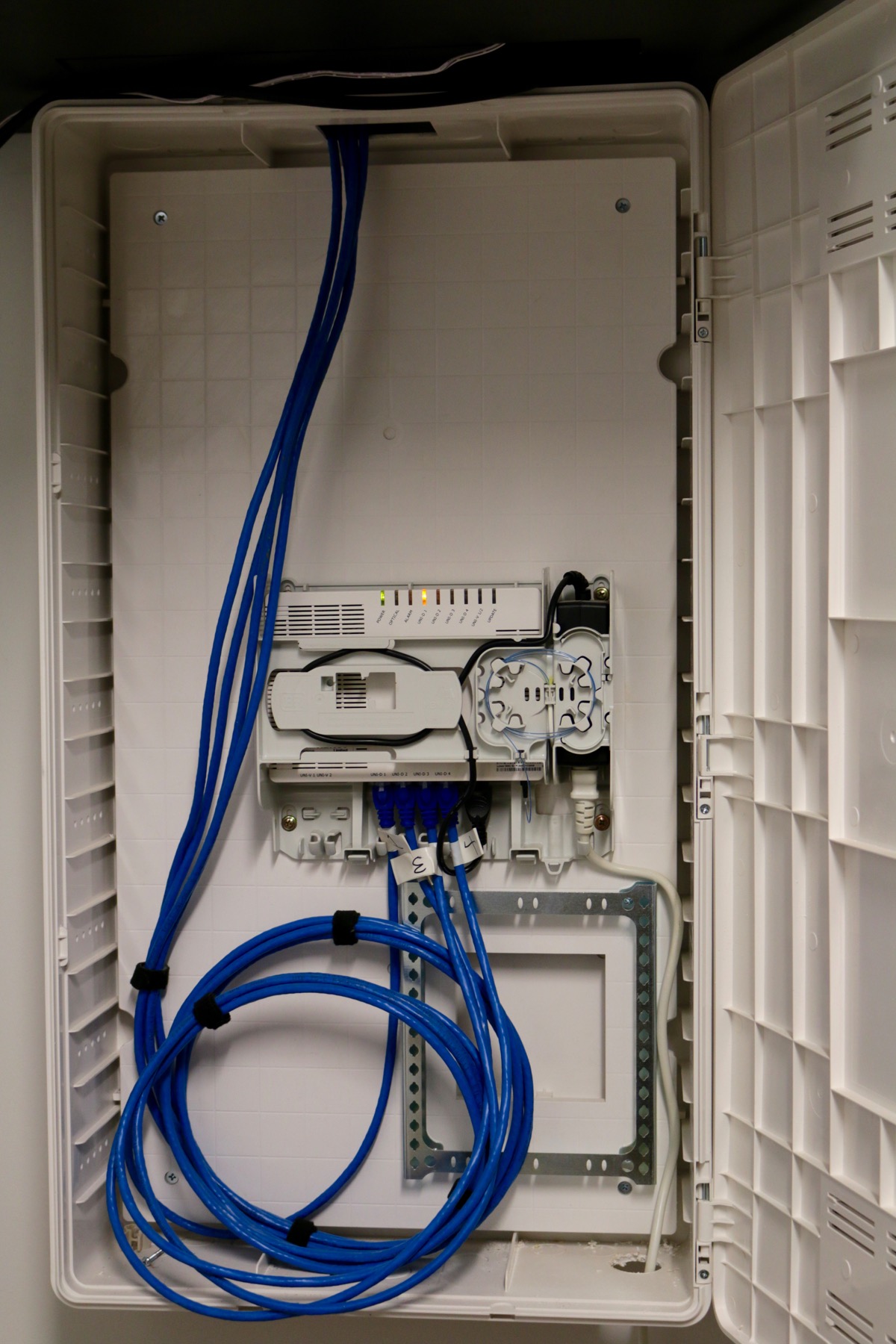 What did it cost?
All up, for 31 points, including the NBN enclosure, 12RU cabinet, Krone patch panels and patch leads, the "retail" price is about $10,000 (my invoice included some AV work which bumped up the price). It's a bit more than a few other quotes I got, but the gear used is quality stuff and the job was very professionally done and tested throughly. I couldn't be happier with it compared to some of the sloppy trades I've had work on the house.
Why would I bother with this over wi-fi?
Whilst wi-fi is getting better (3×3 802.11ac can be quite speedy, if your devices support it that is), it's still not as reliable as a cable. Depending where you live there could be a lot of congestion on the 2.4GHz or 5GHz bands – plus the more stuff you have on your network using wi-fi, the slower it gets. All those devices have to fight over the same amount of bandwidth. If you've got a large house or a double story house, wi-fi often won't reach all parts of the home, so you need to run a cable anyway, use Ethernet over Power, or even worse, link two wi-fi APs together to make a wireless bridge.
I find the latency and speed of wired ethernet to be better than wireless and considering how much I use my computer and rely on my home network, it was worth investing a few grand into cabling up the house.
What else is in the rack?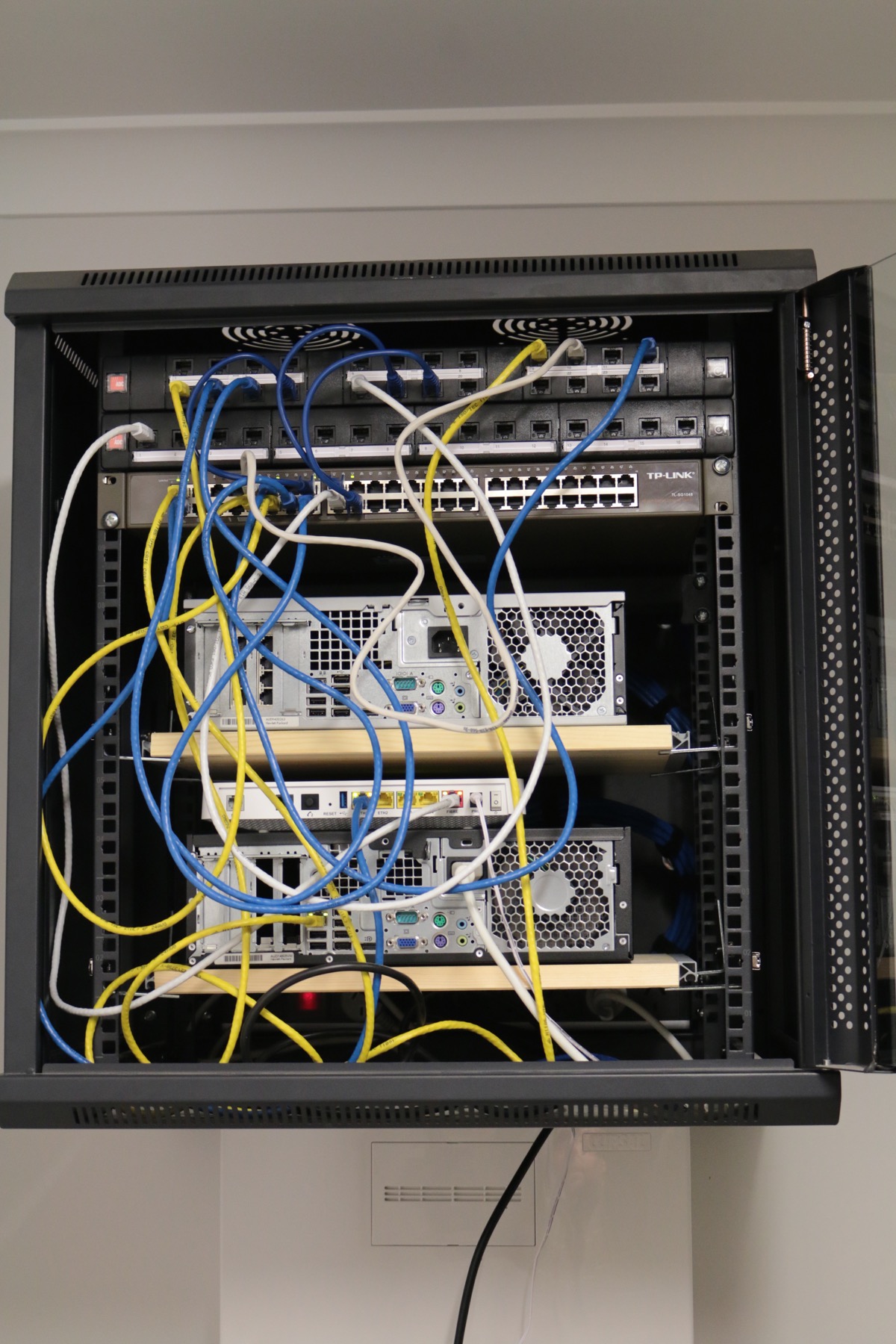 Besides the two patch panels, there's a TP-Link 48 port gigabit switch. I did have a HP switch in there initally, but it was so noisy. At night I'd be able to hear it whilst I slept. The TP-Link isn't silent, but I can't hear it inside the house.
The top PC with the nine NICs is a HP dc7900 small form factor PC that I intend to run as a router & firewall. I haven't been bothered to set it all up properly yet as the router Optus gave me works ok, but I'll get the firewall going soon and compare it to a Ubiquiti EdgeRouter. I mainly want a router with eight NICs so I can have the four 100mbit NBN connections.
The bottom PC is a HP dc8200 Elite, with a Core i5-2500 CPU and 16GB of RAM, a 240GB SSD and 3TB HDD. It currently runs Ubuntu and is a file server (all my backups go there), a download box (usenet & bit torrent), gmvault (backs up my gmail account) and streamripper (records online radio streams). Will probably move this to a VM evntually and run some more services.
SFF PCs fromm Lenovo, Dell or HP are a great size to put in a rack – actual rack servers cost a fair bit and are noisy. These are ex-lease machines and are not expensive at all off eBay. When both are turned on, they use less than 100W most of the time. Not as little as an embedded device style router or a NAS, but way less than a traditional rack mount server.
I used some shelf brackets from Bunnings and some spare IKEA IVAR shelves I had lying around to create a platform for the PCs in the rack. It's not that stable, but it hasn't moved yet! Better solution would be the metal shelves from the manufacturer of the rack, but they're $50 each.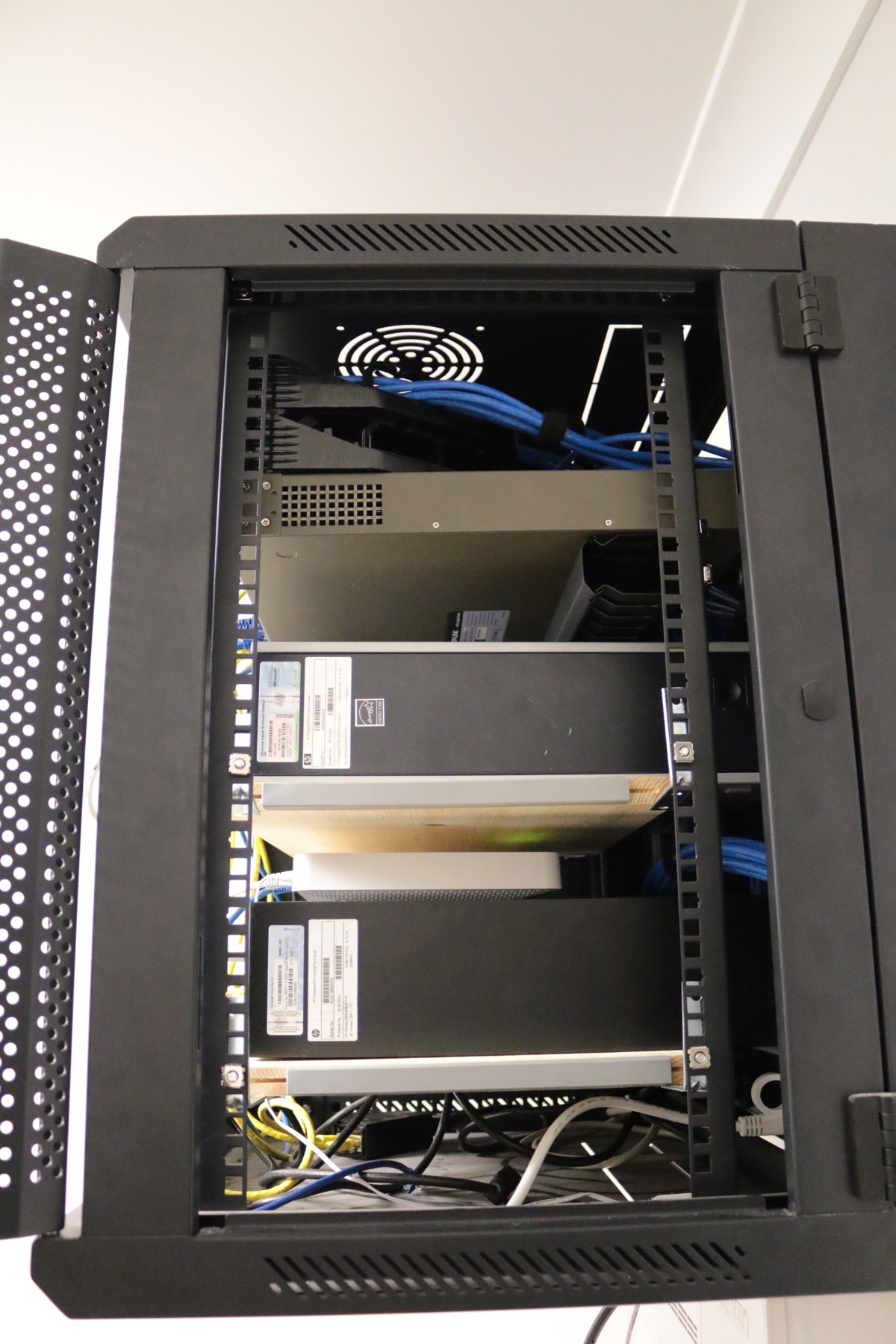 I'm interested in having my house wired up, who did your job?
An old school friend, Matthew Burfitt from UBQS Technology Solutions did all the work. If you're in Victoria, give him a call on 0412 033 920 or email him: [email protected] disclosure – I work with Matt on some projects providing networking and IT advice. But I spend my time working with him because he is a professional and super knowledgeable, I wouldn't waste my time helping out a chump.
[optin-cat id=5772]