AMD CEO Lisa Su took to the virtual stage overnight to announce the company's latest offering in the CPU market and tease the impending arrival of their Nvidia "killer" GPUs.
The new Ryzen 5000 CPUs aim to be AMDs best yet, featuring their next-gen Zen 3 architecture. The lineup represents the company's biggest boost to performance yet and claims its 5900X is"the world's best gaming CPU".
There are four new CPUs in the Ryzen 5000 family:
AMD Ryzen 9 5950X (US$799) – 16 Cores, 32 Threads, 105W, 3.4Ghz (4.9Ghz boost), 72MB cache
AMD Ryzen 9 5900X (US$549) – 12 Cores, 24 Threads, 105W, 3.7Ghz (4.8Ghz boost), 70MB cache
AMD Ryzen 9 5800X (US$499) – 8 Cores, 16 Threads, 105W, 3.8Ghz (4.7Ghz boost), 36MB cache
AMD Ryzen 9 5600X (US$799) – 6 Cores, 12 Threads, 65W, 3.7Ghz (4.6Ghz boost), 35MB cache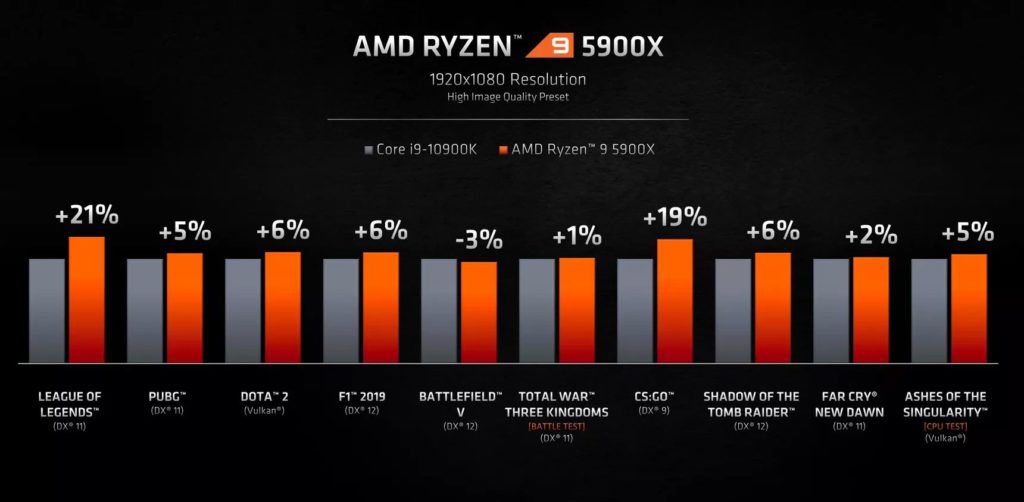 AMD hold back no punches in calling out their latest CPU lineup and its advantage over Intel's i9 family. Benchmarks of 1080p gaming across some of the most popular and intensive games available at the moment show the Ryzen 5900X with a solid advantage, the one exception being Battlefield V.
AMD expect the new CPUs to be available November 5th.
In addition to showing off their CPU wares, AMD teased some details of their upcoming AMD Radeon RX 6000 series of GPUs.
The new cards are expected to compete directly with Nvidia's RTX 30 series, presenting a series of benchmarks for 4K gaming comparable to that of the RTX 3080.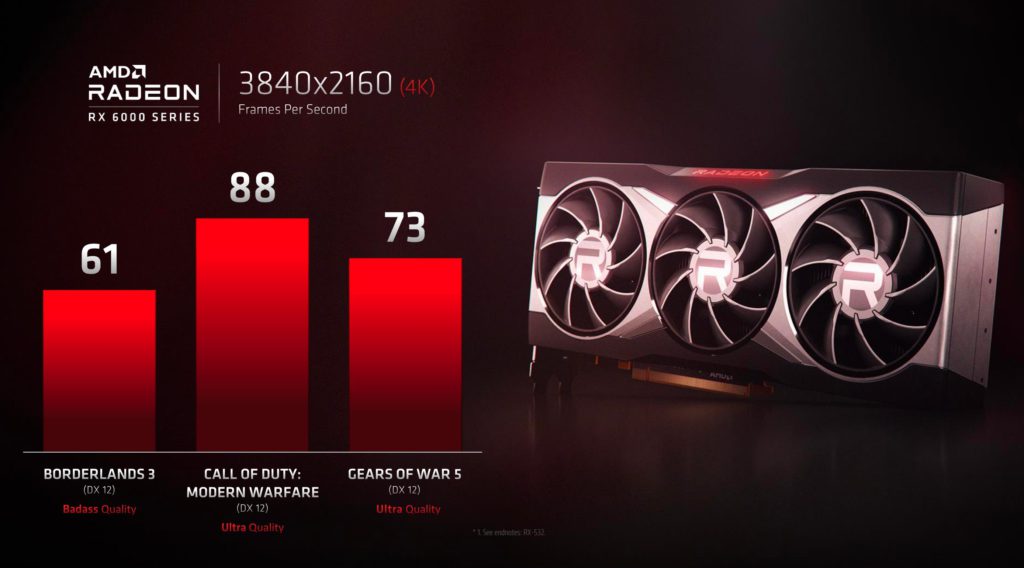 AMD's advantage in both CPU and GPU has always been price, which if as foreshadowed come October 28th when the RX 6000 GPUs are officially announced, could offer high resolution gaming for significantly less (and hopefully with availability).
AMD do make the GPUs in both the new Xbox One Series X & PlayStation 5, which both tout 4K gaming, so they should know what they're talking about.